Bell P-39 Airacobra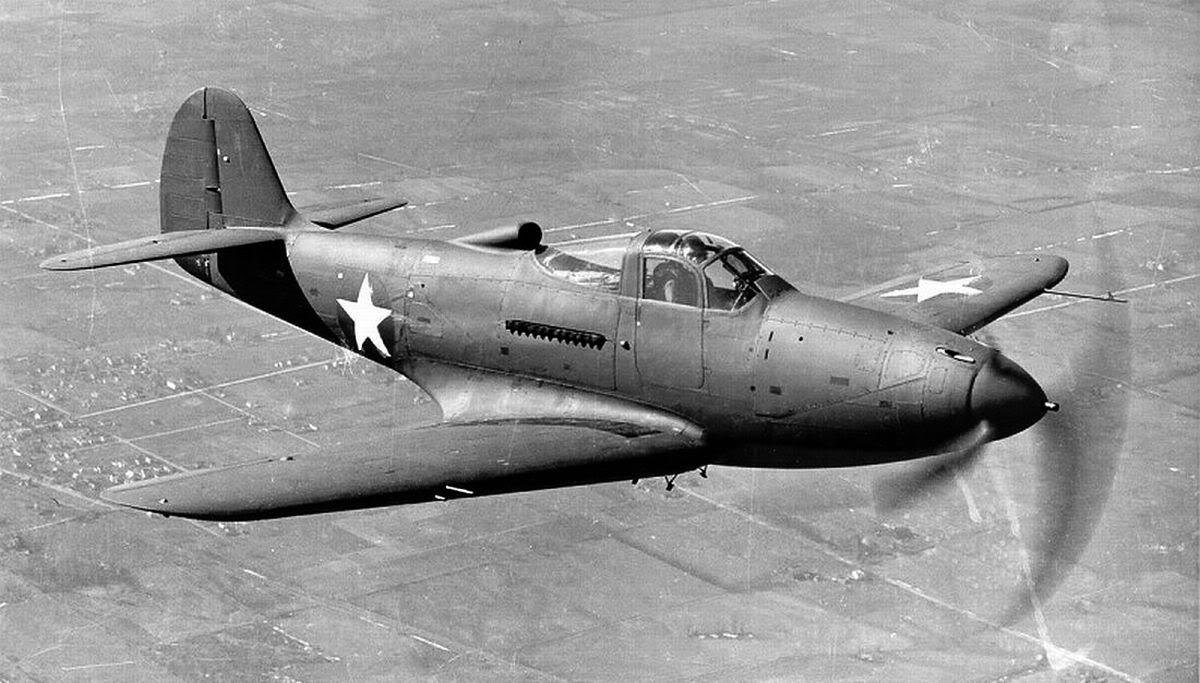 The P-39 an all-metal, low-wing, single-engine fighter was one of the main fighter aircraft in service and available at the beginning of American involvement in World War II. It's mid-engine design left the nose of the ship open to range of armament second only to the P-38 Lightning in it's firepower with it's 20 or 37mm cannon and twin 50 caliber guns. Early models had four wing mounted .30 caliber machine guns which on later models were removed or replaced with underwing pods containing a single .50 cal machine gun each.
The P-39 saw significant action in the erly days of the War in the the New Guinea area, as part of the Cactus Airforce and in the Aleutian Islands, attacking Japanese forces occupying Attu and Kiska Islands
It also saw action in the Mediterranian and North African theatres and many an American Ace got their first kills in the P-39
Plagued by high altitude performance issues, the P-39 performed poorly above 15,000 feet and found itself outclassed as an interceptor and the type was often used at lower altitudes for such missions as ground strafing.
More than 9,500 Airacobras were built during it's production run with more than half going to the Soviet Union as part of Lend Lease.
This unique aircraft has always been one of my favorites. from the first time I built the Monogram kit back in the 60's to today's offerings. It's now available in a range of sizes from 1/144 through 1/32 scale and I've gone out and bought several of these kits vailable from various manufacturers and different scales.
I've also included it's sibling, the P63 King Cobra
Below is my two cents worth on these kits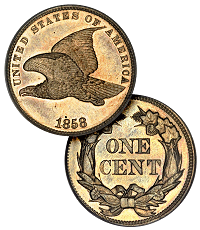 ---
1/48th Scale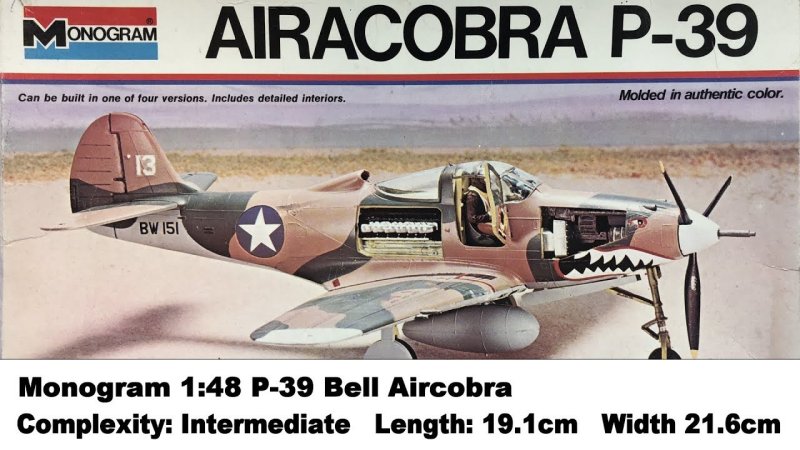 Monogram
Might be my all time favorite kit. When available, this kit is still the most complete offering on the market. Although the molds are old this kit still gives you the best bang for your buck. Of the kits I've built, this one is the only kit in 1/48th or 1/72nd scale that includes the weapons bay and the engine. The parts are pretty free of flash and there's no issues with fit. Unlike the other two kits, the Cockpit door windows are separate parts.
Downside... Raised instead of engraved panels lines, and no after market accessories specific to this kit.
you need to be creative in your use and placement of weight to keep all three wheels on the ground or use the clear post provided in the kit. craft shops now sell a tungsten weights and putty that weigh more than lead or
This kit comes with markings for the 67th Fighter Squadron, Cactus Air Force, Guadalcanal, the 51st Fighter Group, North Africa, and the 49th Fighter Squadron, Canton Island
---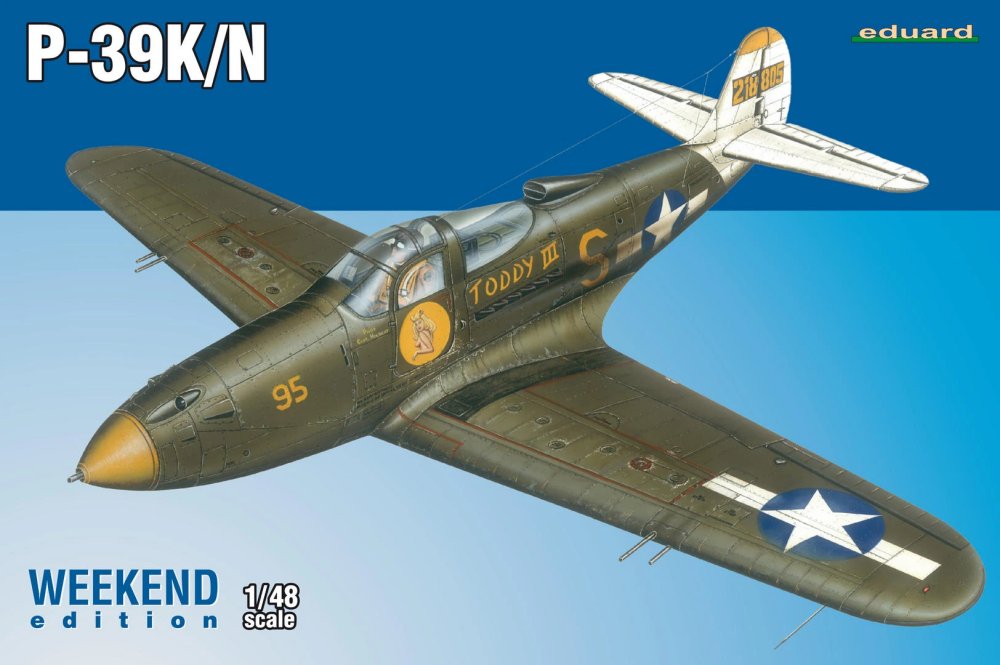 Eduard
Eduard offers the Airacobra in three different versions. All three versions offer the same basic kit and usually multiple variations. The current "weekend edition" offers the "N" or "K" Variant
Each kit has parts enough for all versions of the P-39/P-400. You'll find three different exhausts, three different nose sections and both 3 and 4 bladed propellers depending on which kit Eduard is presenting to you.
They all come with a full color instruction booklet and an extensive set of stencils on their decal sheet
The parts are clean and clear of any flash or mold marks and go together well. The engraved panel line are crisp and well defined. I did have an issue with the fit of the clear parts, the canopy was a little too narrow and the doors didn't sit very well in the closed position.
The upside of these kits is the potential..The level of detail in the cockpit will depend upon which kit you decide on, and the engine compartment and weapons bay are there just waiting to be utilized with aftermarket parts.
Verlinden made a very nice set if you can find one at a reasonable price on online bidding hostage sites
Eduard and several other companies make a resin engine compartment, flaps, wheel wells etc. CMK makes a nice resin upgrade for the Weapons bay/nose wheel compartment
The "Weekend Edition"
This is their basic bare bones kit. What you see in the photo's above are what's in the box. The basic bag with three trees of parts molded in grey and a clear tree with canopy along with instructions and markings for two aircraft.

The "Profi-pack"
This kit contains a small sheet of photo etch for the cockpit, Masks for the canopy windows and markings for five aircraft. The instrument panels are two part pre-printed with gauges and are overlaid with a second pre-painted panel.
This kit runs about the same price as the Hasegawa kit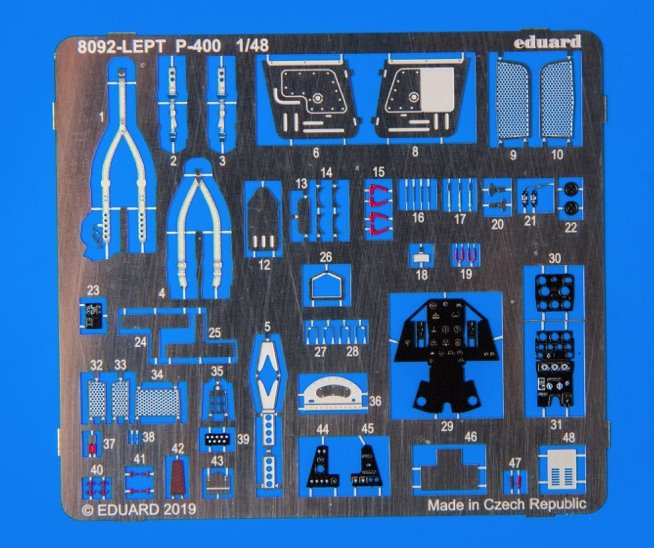 The "Dual Combo"
This set is a limited edition Eduard offers from time to time. It contains 2 complete kits with markings for 9 aircraft and multiple variants. It contains multiple sheets of photo etch with different control panel variations as well as interior detailing.
Since the P-39 had Tricycle landing gear, eduard includes cast resin "weighted wheels" to help keep the aircraft on all three wheels (wheels that are flattened in one area to depict weight and keep the kit from rocking backwards)

---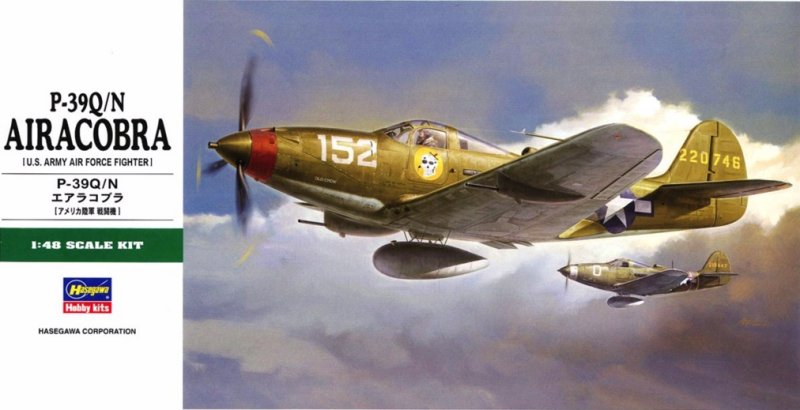 Hasegawa
Six flash free sprues molded in gray, plus one in clear with the canopy, windows and navigation light lenses.
Of these three kits, this one has the most cockpit detail straight out of the box, the individual gauge details on instrument panel are well detailed with needles and and level gradients around the edges.
Again, no engine or weapons bay details and it's not as upgrade ready as the eduard kit but there are plenty of upgrades available
Like the basic Eduard kit, this goes together quickly with 2 versions in three different configurations and markings for three aircraft.
The decals are a little on the thick side on this kit, they didn't settle into all the little nooks and crannies as the other two kits did and required several applications of solvaset

---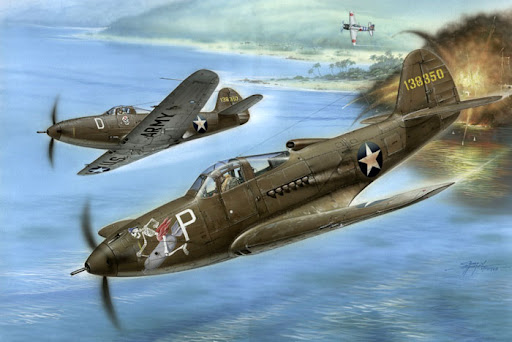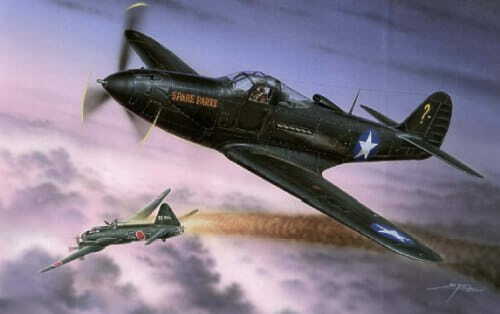 Special Hobby
SH 32002 P-39D
When I first thought about a large cobra, this was my second choice. Reviews were't exactly glowing and it lacked the detail in areas like the weapons bay and engine compartments. Although there is cockpit detail isn't as sharp as I would hope on a kit of this size, it was acceptble and I found flash on a small area of one of the trees.
Looking ia it closely, this kit resembles a larger version of the Hasegawa offering
I was able to pick up one of the original kits at a great price, It comes with 6 sprues molded in Gray plus the clear sprue with the canopy, Doors and Navigation light lenses. The version I bought comes with Resin exhausts and gunsite and a small sheet of Photo Etch
Markings are provided for three aircraft:
P-39D-1-BE, 41-38350, 35 FS/8 FG, P, as flown by Lt. I.A. Erickson, Milne Bay, New Guinea, 1942
P-39D-1-BE, 41-38357, 35 FS/8 FG, D, as flown by Lt. Leder, Milne Bay, New Guinea, 1942
P-39D-1-BE, 41-38338, 36 FS/8 FG, Q, 'Nips Nemesis II', as flown by Lt. Donald C. McGee, Port Moresby, New Guinea, 1942
The cockpit is moderately well detailed, but the Eduard Interior detail set really did wonders
All the control surfaces are positionable and both doors can be opened of closed.
The kit comes with both a 500lb. Bomb or an external Fuel Tank

---
SH 32026 P-39Q Makin Cobras
Basically the same kit but with one major improvements over the original kit, this being the cockpit.
This version of the kit comes with resin cockpit parts and some Eduard Photo Etch.
Markings are provided for four aircraft:
P-39Q 42-19551, 46th FS 15th FG "Devastating Devil"
P-39Q 42-19547, 46th FS 15th FG "Texas Ed"
P-39Q 42-19467, 46th FS 15th FG "Pat-riot"
P-39Q "?", 46th FS 15th FG "Spare Parts"
---
Now... How much further do you want to go.
Special Hobby offers several CMK upgrade sets throught their Website at a reasonable price. These seem to tie in nicely with the resin in their newer kits
First is the engine,P-39 Airacobra engine set not the complete engine, but an insert similar to Monogram's rendition
Next comes the P-39 Airacobra undercarriage set, Just the main gear, not the nose wheel,
And finally, the P-39D Airacobra armament set. This set covers the complete nose section of the Aircraft and ties in with the resin cockpit that comes with the Hi-Tech kits.
I ordered both the 32nd and 48th armament sets and they arrived from Europe in a remarkable 9 days
The 1/32nd kit contains 30 or so pieces cast in grey which I find alot easier to see and work with and a small sheet of Photo Etch. Like most cast parts, the details are crisp and clean,
The top and side compartment covers are extremely thin and probably on the fragile side so care should be taken when triming them.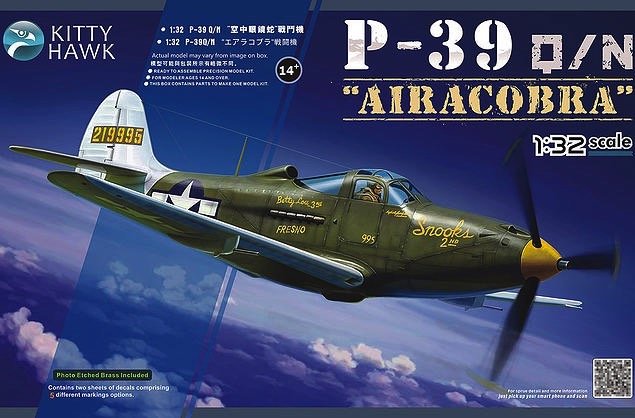 Kitty Hawk

Of the offerings available in 1/32 scale, this kit has interior details lacking in the Revell and Special Hobby kits, from the gear box in the nose to the radio equiment in the tail and everything in between. Full cockpit, engine and weapons bay.
The wings include the landing flap interior detail as well as open compartments for the 30 caliber machine guns. The underside of the wing has the ejector holes for the .30 caliber shell casings which will need to be filled if you chose the -Q model.

I was disappointed that the instrument panel gauges lacked detail, with only a decal. I plan to cut out the individual dials from the sheet rather than use the entire decal or I'll invest in the eduard cockpit detail set. Another minor detail I noticed was the bullet proof glass behind the pilot was left out of the kit.



As I look at this kit and go through the parts and instructions, I know this will be a off the deep end build, starting with replacing the gun barrels. I'm even considering pulling out the fiberoptics for the nav lights and maybe even the instrument panel... (just a thought)