Panther, Pz.kpfw V Auf. G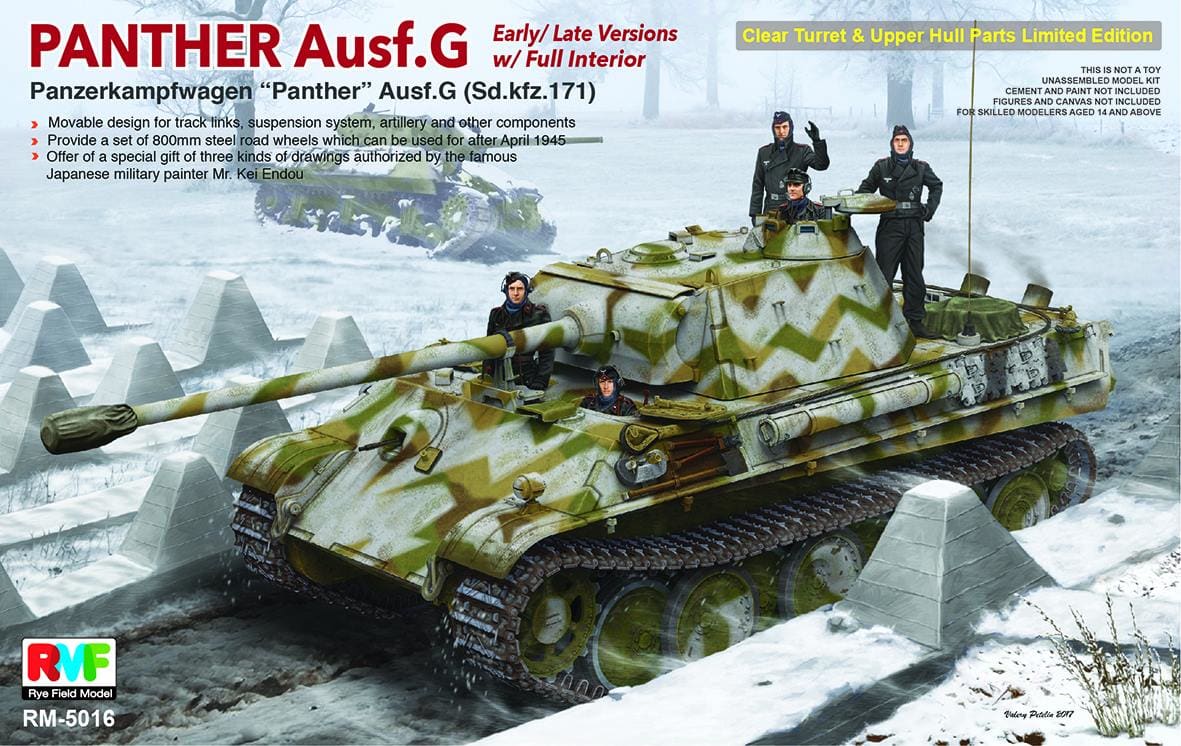 This is the special edition of RFM's initial offering of the Mark V Panther. It can be built in either the 1944 or 1945 production
Like the Tiger, it's pretty intimidating when you open the rather large box.
Once opened, you'll find hundreds of parts on 12 sprues in the basic Panzer Tan along with two photo etch sheets and a slew of parts to make two sets of tracks. New to this RFM kit is clear turret and deck pieces, packed in a separate protective box within the box that allow the interior to be seen without cutting sections away or displaying the turret and hull separately.
When you examine the 52 page instructions, you come to the quick conclusion that this kit is even more detailed than the Tigers. The kit contains many small details such as the internal gears for the drive sprockets. There are hoses, cables and lengths of tubing that need to be shaped for the interior and even a recoil spring for the 75mm main gun, some of these parts you'll never see once assembled, but parts something the most ardent hobbyist will appreciate.
Another difference between this and the Tiger kits is the 75mm ammunition. In this kit, all 88 shells are individual pieces whereas in the Tiger has them molded into racks.
They're attached to the sprue at the base and with minimal mold lines so with a minimal amount of light sanding, they can be painted still on the sprue.
the decal sheet has stencil markings for the 75mm ammunition, including one to represent the primer cap.
Overall it looks like an amazing kit with multiple options that should keep even the rivet counters happy. I'm looking forward to adding it to my already overloaded display case