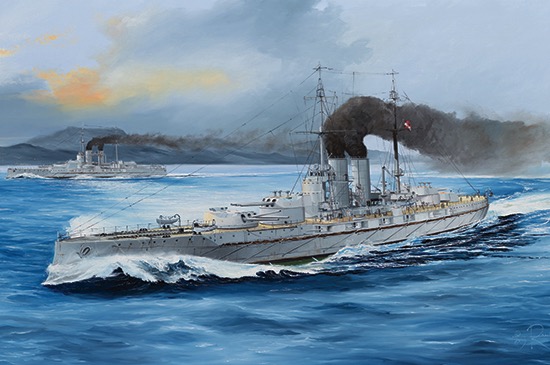 The Ship...
The lead ship of the Tegetthoff Class, Viribus Unitis was launched on June 24th 1911 and commissioned into the Austro-Hungarian Navy on December 5th 1912.
After minimal involvment in the First World War, and facing defeat in October 1918, the Austro-Hungarian government transferer Viribus Unitis to the newly formed State of Slovenes, Croats and Serbs to avoid transfer as a war prize. Renamed Jugoslavija, the ship was destroyed by an Italian Limpet mine in the Raid on Pola a day later.
---
The Kit...

This kit contains 11 sprues plus the single piece deck, 3 sheets of photo etch and a decal sheet containing the National Flags. The hull is split along the keel, instead of the waterline as usually found in Trumpeter kits. The main guns are slide molded with hollow barrels. The photo etch supplied covers the platforms for the torpedo nets, cranes, a few stairs and ladders and a couple pieces of railing, but you will need to purchase a third party railing set if you want to do the entire ship.
---
The build...
This ship is unusual in it's green antifouling, and dark red boot top stripe. The grey is RLM63 but it's a little light so I might re-paint before I go any further


I've ordered a wooden deck for this kit, but we're looking at a 3 week lead time off e-bay. While I'm waiting, I'll get as many subassemblies done as I can

The deck, made by a company called "Chuanyu" has arrived and I was pleasantly surprised. Instead of the usual acetate backing this was on paper. There were a few spots that needed to be cut to separate the deck from the surround material, but after that, it's probably the easiest deck I've ever applied and the backing paper can double as a mask after the deck is installed
With the deck installed I can start adding the superstructure. Compared to the later superdreadnaught designs, there's really not alot there, A hull, big guns with a small conning tower, pilot house and a lot of ship's boats
I installed the boat racks but held off on the ships boats. It will be alot easier rigging the ship without trying to work around them.
The plastic masts that come with the kit are rather flimsy so I replaced all but but the lower sections with tapered masts from Master Models and yard arms from their Viribus set. This requred cutting off the top mast, drilling out the mainmast cap and inserting the new mast from the bottom up. I notched the mast where the yard arms attach and attched them with crazy glue, but ended up using epoxy which will require a little cleanup
The rigging on this ship was quite extensive with many stays and even more halyards. As I searched and found photo's of the ship, I noticed with one exception, nothing was run between the masts as I expected to find on ships of that era. The one photo showed just 4 lines run between the two upermost yardarms.
I found other photos with lines run frum the top of the masts to the bow and stern. These were used to support awnings and were renoved while underways so I won't be installing them