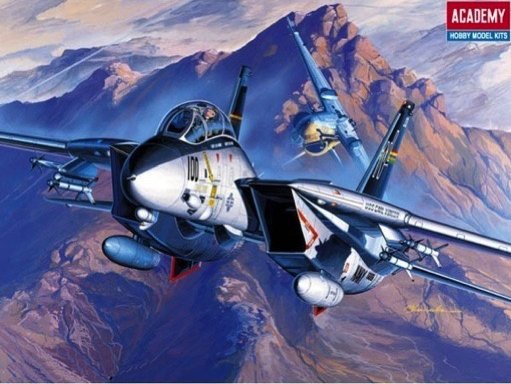 Academy, 1/72
This kit comes with 3 sprues molded in Gray plus the clear canopy/windscreen.
The parts are extremely flash free but many of the smaller parts have ejector pin marks
Engraved panel lines are shallow but effective,
Cockpit section is split vertically, interior detail is minimal, the instrument panels are represented by decals. The forward wheel well has detail, but there's a number of ejector pin marks. You have a choice of pods for the nose of the ship and the option of the boarding ladder stowed of deployed
The Wings in this kit are geared to open and close and the glove vanes extend with the wings in the "oversweep" position.
This kit provides markings one aircraft,
F-14A, VF-51, NL/105, U.S.S. Carl Vinson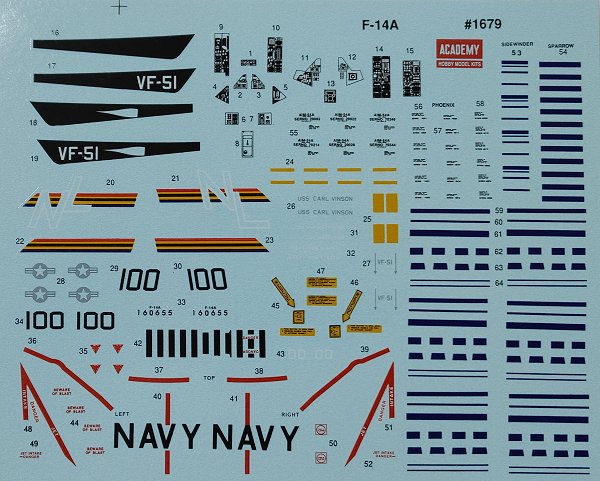 With the exception of the seats, this kit goes together very well. Fit issues are almost non existant and all the holes for the inderwing armament are pre-drilled. The decals are minimal with none of the stencil markings to apply.
The large number of parts with pin marks relegate this kit is a weekend build, straight out of the box.
It doesn't look too bad when complete, and for under 20.00 not a bad value for the younger or casual modeler. There are just too many of these ejector marks to fill and sand to make this your primary display kit.