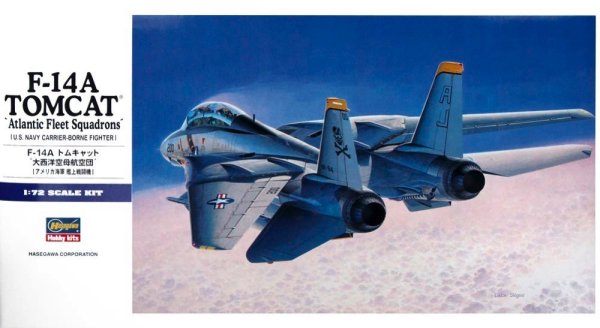 Another is called "F-14A Tomcat Atlantic Fleet Squadrons"
When I saw this kit online, my first thought was this is the same kit as theHigh Visibilit kit with different decals, but it's not. This kit is closer to a miniature version of their 1/48th kit.
In the box you'll find 12 Sprues molded in the usual Gray, a clear Sprue with canopy and nav lights, plus a fret of photo etch.
First off, unlike their less expensive kit, this one has engraved panel lines. There are multiple options of nose sensors and two different vertical tails, (with and without stiffeners). The cockpit instrument panels are detail, so you have the option of painting and dry brushing, using the PE parts or using decals.
The Photo Etch with this kit appears to be nickel which is more difficult to cut and fold than brass but holds the details better. It contains mostly cockpit control panels and even includes the breaker panels found in the back seat
The first thing I noticed after the large number of parts was an unusually large and surprising amount of flash on just about every tree so plan on alot of trimming and filing to remove it all. Unlike their less expensive kit, this kit has several options for detailing. On the nose section of the kit, there are open compartments for the Rotary Canon, the cockpit steps and ladder, and the PE set includes Canopy Locks should you decide to leave it open.
On the fusilage, the airbrake can be deployed as are the leading edge slats, and flaps on the wings.
This kit comes with markings for four aircraft,
VF-84 CAG Aircraft "Jolly Rogers" 1988
VF-84 "Jolly Rogers" 1986
VF-31 "Tomcatters" VF-31
VF-102 "Diamond Backs" VD-102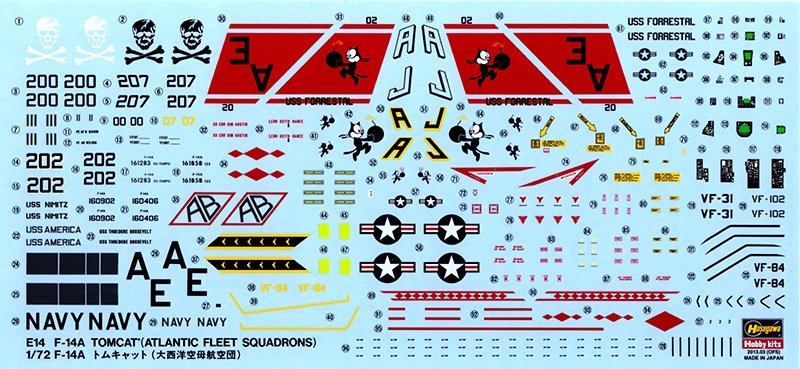 In spite of the large amount of flash, this kit might be the best of the 1/72nd kits on the market. Highly detailed with many small parts and intimidating when you first open the box, not for the novice.
It's really designed for the details to be opened and exposed. There's a high level of detail, cockpit mirrors, the PE instrument panels, even the detail inside the engine nacells and the afterburners.