The Kit...
This is the first ship of my U.S.S. Massachusetts Trilogy
There aren't a large number of American Pre-dreadnoughts on the market and those that are available are all resin, and a little more expensive than plastic kits of the same scale.
This kit is a special addition limited to 250 kits, complete with wood decks and brass barrels, packed in a foam lined box. After opening the box I was surprised at the small size of this ship, forgetting how small these ships were compared to the dreadnoughts and super-dreadnoughts that succeeded it.

The hull details are pretty good, but there is a littler but of cleanup involved. The sprue's with the smaller parts have quite a bit of flash that will require cleanup.
This kit is for definitely for advanced modelers and requires a different skill set, but for relatively short money, (by resin kit standards) it looks to be a good place to start

Comparative sizes, U.S.S. Massachusetts BB-2, U.S.S. New York BB-34 and U.S.S. Massachusetts BB-59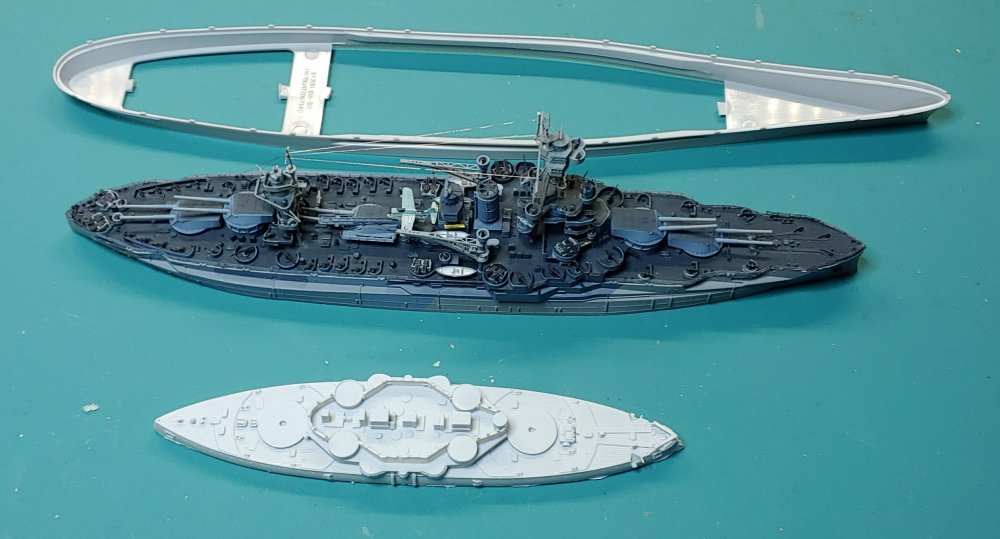 This is for the most part my first full resin kit so it will be interesting how I manage to mess it up

The Build...
There's a little cleanup involved at the waterline but it went pretty smooth. Prior to painting, the Tertiary armament mounts needed to be drilled out requiring a #80 drill. Entire hull was primed light grey prior to the top coat. The buff is too light, but it was the closest I could find. The steel areas on the deck which appear to be muzzle blast areas I painted haze gray.
The wood decks that come with the kit are a perfect fit and leave space for the PE handrails.


Once the decks were installed, I installed the the braces and the cowl vents. The Center walkway was warped so I installed it before adding the wood deck. Once dry and decked over, I began installing the PE handrails. These are extra fine and easly distorted so after a half hour or so, I removed the 2 aft vents
Hindsight being 20/20, I should have installed the handrails before the stacks and cowl vents


The hull is white, pretty straight forward but I was unable to find the Spar Buff that was prevalent at the time so I used a color called ochre. It's a little light but it works for me.