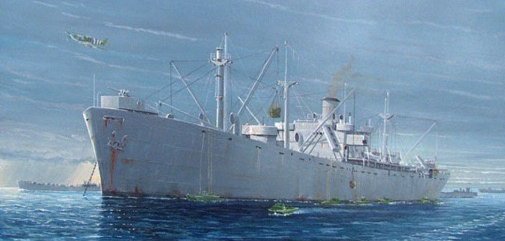 The Ships...
---
The Kit...
The kit I purchased is the Jeremiah O'Brien
---
The Build...
Just started the build with the hull. The mold line were sanded off and then to the spray booth for a coat of oxide red.
The base is Ipe, with several coats of polyurethane with pedestals made from brass Drawer pulls.
A very dense and heavy wood, Ipe gives the ship great stability and it's not likely to tip over
Painting
Instead of the usual haze gray I decided to take a crack at a dazzle paint job.
The one I chose was Measure 33 design 9D found on SOME type EC2-S-C1, standard class cargo ships
Consisting of 5-P Pale Gray, 5-H Haze Gray 5-N Navy Blue and Black with 20- B Deck Blue.
For this kit I'm trying some new (at least to me) Products.
The bottom is painted with Scalecoat II oxide red, as will be the Boottop and the black camo patches.
The scalecoat line is mostly railroad colors in 1 ounce bottles with a 33mm cap (which is the standard badger size). It recommends thinning but for me sprayed right out of the jar. It took overnight for a full dry
For the topside I'm using Scalecolor Acrylics. These are "airbrush-ready (and airbrush only)", hard-polymer acrylics and I'm curious to see if we get along better than I do with other acrylics I've tried.