Designed in 1939, Fletcher Class Destroyers served in World War 2, the Korean and Vietnam Wars.
design to compete with the Japanese "special type" destroyers and were capable of absorbing enormous amount of damage and continue fighting.

Used almost exclusively in the Pacific during World War II, the Fletcher-class ships had the speed and durability to stay with the carrier battle groups, performing anti-submarine and anti-aircraft warfare as the first line of defense for the carrier battle groups and engaging in numerous surface actions.

As designed, the Fletcher Class Destroyers carried five 5" 38 caliber dual purpose guns in single turrets, Ten 21 inch torpedo tubes fitted in two quintuple centerline mounts, firing the Mark 15 torpedo.
light antiaircraft was a quadruple 1.1"/75 caliber gun mount and six .50 caliber machine guns.

During the war, the anti-aircraft weapons were increased, normally five twin 40 mm Bofors mounts and several single 20 mm Oerlikons. with the increased threat from kamikaze attacks, many of the ships received further AA modifications replacing the forward torpedo tubes and midships 40 mm twin Bofors with two quadruple 40 mm and the 20 mm singles with six 20 mm twins. Stating with the naval battles around Guadalcanal the Fletcher class fought in every U.S. naval engagement in the Pacific. 44 of these ships earned ten or more service stars, 19 were awarded the Navy Unit Commendation and 16 received the Presidential Unit Citation.

Nineteen were lost during World War II, and six were damaged, Beyond repair
After the war, the remainder were decommissioned and put into reserve.
At the outbreak of the Korean war, many were returned to active duty.

After the War, many of the remaining ships of the class were sold to foreign Navies.
The final ship of the class was retired by the Mexican Navy in 2001.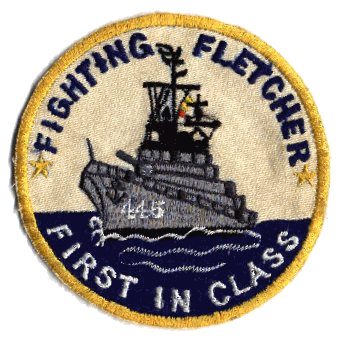 Laid down:
Dec.28 1936
Launched:
Dec. 8 1938
Displacement:
2,500 tons
Length:
376 ft
Beam:
39.5 ft
Draft:
17.5 ft
Speed:
36.5 knots
Range:
5,5000 nmi at 15 knots
Complement:
325
Armament:
5 x 5 inch/38 caliber guns
6–10 40 mm Bofors AA guns
10 x 21 inch torpedo tubes
7–12 20 mm Oerlikon autocannons,
6 K-gun depth charge projectors
2 depth charge racks